---
Resources
Art, Cuisine, Famous Italians, Festivals, Folklore, Genealogy, Holidays, Hotels, Photos, Real Estate, Sports, Travel and More
---
Guides
---
Surname Collection
Add your name to the collection.
---
Recipes
Authentic Italian recipes for you to enjoy.
---
Photo Galleries
Enjoy photos of Italy, wine making & more.
---
Proverbi
Proverbs in Italian & English.
---
Our Paesani
Weekly column dedicated to today's Italy.
by Francesca Di Meglio
---
Italian Memories
Articles on growing up Italian.
by Cookie Curci
---
Una Mamma Italiana
Articles for Italian mammas.
by Tiffany Longo
---
Learn Italian
English-Italian guides
Spanish-Italian guides.
---
Molto Italiano
Sign up for our FREE newsletter.
---
Trivia
Test your knowledge of Italy.
---
The Making of Villa Tre Angeli
Part 1: The Encounter
Mannie, first month of our meeting.

The American men I was meeting made me scream with their notions. "We could get married, and then if it doesn't work, we could just get divorced!" Jeez! No one would survive a relationship with that as its foundation. So, I had decided to be a single woman and travel the world.

I was working for a magazine in New York. My boss didn't have time to meet with a client, so she sent me for the lunch meeting. He was a nice, middle-aged man. We found that we were both of Italian heritage. We started talking about Italy and how it would have been so wonderful for him to have lived there for a year. I said, "That sounds nice. Why don't you do it?" He gasped, "Are you kidding!? I have a wife and kids, a job, a mortgage. I will never get to do that, now." I replied, "Yeah…that's too bad. It would be nice." With a huge, enthusiastic, expression he leaned toward me and suggested, "Why don't you do it, then?" "Oh, My! I can't do that; I have a job." He smiled and raised an eyebrow, "Yah?" The light bulb went off in my head, and I raced home to call Karen, a dear friend from college. "I'm backpacking through Europe for a year. Want to come?"

We began saving our money to make this happen. Karen was finishing up her master's degree, and I was in a job that was not rewarding. Although we were sure it would be exciting, we had no idea what lay ahead. We ended up traveling Europe for just shy of a year. It led to many adventures, but this one I wasn't expecting.

Along our travels and the 22 countries visited, we made sure that we saw at least one big city and two small towns in each spot. One tiny village was Ognio, the home of my grandfather and all of his ancestors. We went to visit some distant relatives in this "one-horse town." After the big feast in their gracious company on Easter day, we were pretty exhausted. Trying to figure out what they were saying and keep up with my cousins that were trying to interpret was dizzying. The next day, Karen and I needed a break. We hiked down the mountain to the town nearby to check out some shops and bars.

The townsfolk were in a bar celebrating the arrival of a new ambulance! The Italians will celebrate anything! One young man was pushed outside to invite us in for a drink. It was quite apparent that we were American. He was the only one that knew a little English and who was brave enough to risk rejection. We accepted the invitation. Holy cow! There were a dozen guys in the place in the middle of the day. None of them spoke anything but Italian. We sat down and the conversation started. Most of them yelled for our brave translator to tell us this or tell us that. He did his best. What we couldn't understand we found in our pocket dictionary or tried to mime. They told us jokes, he played his guitar, and they sang silly, dirty Italian songs. After what seemed like no time, we were whisked outside to dance the Lambada, which we had never heard of, as it had made its debut while we were traveling. We stayed for hours and laughed all night.

He introduced himself as Manfredini. "Wait, your name is Manfredini?" I had never heard that name before. All of his friends called him Manfro, for short. So I dubbed him Mannie. He was full of personality and charisma, but Mannie didn't have a chance with me. He was in his Red Cross Uniform, a true method to make a girl swoon. But he was all sweaty, had five o'clock shadow, his hair was sticking up off to one side, his eyes were rolling around in his head and when he laughed…I saw every girl's nightmare...a gaping hole! I had never met a man in his 20's that was missing a tooth, before. I found it absolutely astonishing!

During the afternoon he got up to excuse himself saying that he was going to change. "Thank God!", I thought to myself. He was back in a jiffy in a suit and tie. Surely, he wanted to make an impression on us; which he did…Just, not a good one. He was still all sweaty, had five o'clock shadow, his hair was sticking up off to the side, his eyes were rolling around in his head, and needless to say, his tooth hadn't grown back!

I certainly was not interested in him romantically, but what a lot of fun he was. He gave me his phone number and his address because Karen and I were going to be back in the area to stay in my ancestor's house for six weeks after some more traveling. The house was in the middle of nowhere and we didn't know a soul. We thought it would be great to have a friend. I was diligent in writing postcards at every stop while we were away from Ognio. Upon our return to my ancestor's house, I called him. "Hi Mannie, this is Valerie." "Who?" was the billowing response I heard on the other end of the phone. A chill of contempt ran up my spine. I handed the phone to my friend in disgust saying, "Here, you talk to him!" She said, in her very feminine voice, "Hi Mannie, this is Karen!" There was a split second of silence and then I heard, "Oh, Karen!," echo from the receiver. How maddening! No one ever remembered me. I had wasted all that time writing those postcards, I wasn't even interested in him that way and the man didn't have the decency to remember who I was.

They chatted for a moment. She invited him to a small party we were planning to have that Saturday; a "Champions League Party", the Super Bowl of Italian soccer. He gladly accepted. However, none of my distant cousins or their friends ended up accepting our invitation. Strangely enough, the Italians prefer to be in their own home to watch the game. Who knew? Now, we had this guy and his friend that we barely knew coming to the house for a party and no one would be there, but the two of us. It was starting to seem like an ambush on our part! I certainly didn't want them to think we were trying to woo them. Humiliating!

When I opened the door, I was quite surprised to see a sober, showered, well-shaven man standing in front of me. He cleaned up nicely! We sat at the table and chatted the night away. Not the easiest feat, since his friend didn't speak a word of English and Mannie spoke only broken English. Between the dictionary, charades and our silliness we were able to enjoy the evening. We discovered that he did not live in the area. He actually lived an hour and a half away on a very windy, mountain pass. This explained the "suit and tie without a shower" incident. He really did want to make an impression, so he snuck out to his van to straighten up a bit. What a mistake! By now, the night had become the wee hours, so they got up to leave. Mannie took Karen's hand in his. He said, "It was lovely to see you again, my dear." Then he turned their entwined hands and kissed his own. It was so unexpected that we giggled. Then he took my hand. I figured he would do the same. Instead, he pulled me close and kissed my neck. He slipped away into the night. I closed the door as my knees buckled. I turned to Karen and whispered, "Oh my gosh, I think I'm in big trouble!" As fate would have it...I surely was.
| | |
| --- | --- |
| | |
| | |
Follow Us
Featured Item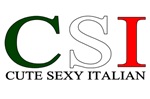 Shirts & Novelties
---
Partner Links Shops/Stores Italiansrus Gear
Proudly display the colors of Italy with these great products.

FORZIERI.com

The world largest online retailer for Premium Italian Fashions.
---
Travel Tour Italy
Customize your trip to Italy.