---
Resources
Art, Cuisine, Famous Italians, Festivals, Folklore, Genealogy, Holidays, Hotels, Photos, Real Estate, Sports, Travel and More
---
Guides
---
Surname Collection
Add your name to the collection.
---
Recipes
Authentic Italian recipes for you to enjoy.
---
Photo Galleries
Enjoy photos of Italy, wine making & more.
---
Proverbi
Proverbs in Italian & English.
---
Our Paesani
Weekly column dedicated to today's Italy.
by Francesca Di Meglio
---
Italian Memories
Articles on growing up Italian.
by Cookie Curci
---
Una Mamma Italiana
Articles for Italian mammas.
by Tiffany Longo
---
Learn Italian
English-Italian guides
Spanish-Italian guides.
---
Molto Italiano
Sign up for our FREE newsletter.
---
Trivia
Test your knowledge of Italy.
---
Centro Arte Moderna e Contemporanea della Spezia
Part 3 of 6: The "Golfo della Spezia" Prize

Emilio Vedova
Vie del mondo, 1953
P.za Battisti, 1
19121 La Spezia
Italia
tel.: 0187 734593
fax: 0187 256773
Website

The National "Golfo della Spezia" Prize of painting dates back to 1933.The invention and organization of that competitive exhibition are due to Filippo Tommaso Marinetti and Fillia. A lively reunion of several second-generation Futurist artists and others gave life to that memorable summer and initialled the interest of La Spezia for contemporary art. The resumption of that event took place in 1949 and lasted up to 1965: it looked back to that historical precedent the title of which was kept; it was then resumed in the year 2000 keeping a biennial cadence.

Its peculiar "purchase-prize" formula has given the city about 300 works constituting the first group of the permanent exhibition housed by CAMeC. Due to its authoritative principles of selection, the Prize has documented and collected the complex events and the most significant results of Italian art and, since the year 2000, of international production (among others we mention Accardi, Attardi, Birolli, Cassinari, Guttuso, Martin, Moreni, Morlotti, Pintaldi, Pizzinato, Prampolini, Reggiani, Santomaso, Scanavino, Sironi, Sughi, Turcato, Vedova, Zwackman).

Part 4: The Cozzani Collection
---
Part 1: Museum's History
Part 2: The Drift Towards Contemporaneity
Part 3: The "Golfo della Spezia" Prize
Part 4: The Cozzani Collection
Part 5: The Battolini Collection
Part 6: Museum Services
---
"Courtesy of CAMeC. Text & photos reprinted with permission."
| | |
| --- | --- |
| | |
| | |
Follow Us
Featured Item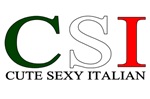 Shirts & Novelties
---
Partner Links Shops/Stores Italiansrus Gear
Proudly display the colors of Italy with these great products.

FORZIERI.com

The world largest online retailer for Premium Italian Fashions.
---
Travel