---
Resources
Art, Cuisine, Famous Italians, Festivals, Folklore, Genealogy, Holidays, Hotels, Photos, Real Estate, Sports, Travel and More
---
Guides
---
Surname Collection
Add your name to the collection.
---
Recipes
Authentic Italian recipes for you to enjoy.
---
Photo Galleries
Enjoy photos of Italy, wine making & more.
---
Proverbi
Proverbs in Italian & English.
---
Our Paesani
Weekly column dedicated to today's Italy.
by Francesca Di Meglio
---
Italian Memories
Articles on growing up Italian.
by Cookie Curci
---
Una Mamma Italiana
Articles for Italian mammas.
by Tiffany Longo
---
Learn Italian
English-Italian guides
Spanish-Italian guides.
---
Molto Italiano
Sign up for our FREE newsletter.
---
Trivia
Test your knowledge of Italy.
---
Interview With Italian Singer, Songwriter and Pianist Chiara Civello

Chiara, thank you for taking the time to be interviewed for the Web site Italiansrus.com. I had an opportunity to listen to your new album Last Quarter Moon and I was very impressed with your voice and style. I wish you much success with your debut album.

The readers of Italiansrus.com would love to learn a little bit about your life growing up in Italy.

Where you were born and raised?
I was born and raised in Rome, Italy. But I have southern blood: my dad is from one of the oldest towns in Sicily, Modica, and my mother from Bari, in Puglia. I am very attached to Sicily, because as I was growing up I spent a lot of time there and we have a great family house.

What was life like growing up in an Italian family?
It was great. How else could it be to be fed the best food accompanied by the best wine every day since you're born?

Who encouraged you the most to pursue music?
The person that first noticed a musical inclination in me was my grandmother Bianca. She had a very out of tune old piano and I spent a lot of time with her. She used to urge me everyday to go play it, as I were a professional pianist, and even if I had no knowledge of the instrument whatsoever, this made me take it very seriously. It's thanks to her that I'd spend hour's just finding melodies, at first only on the white keys because the black ones scared me. Those days more than the hands my imagination was at task. More then a start I'd call it a very slow and quiet awakening.

When did you first realize that jazz was the type of music you wanted to perform?
I don't really consider myself a jazz performer. I feel that jazz has been a very important part of my musical development, but I feel my journey has taken a different direction now. What I love is to write songs. And my songs are a reflection of elements I love in different genres I've been exposed to through the years. Jazz was my introduction to music.

Where did you study music and in particularly jazz?
While I was in High School in Rome, I studied music and singing at a private jazz school called Saint Louis Music Academy for four years. At sixteen years old I attended some workshops by the faculty by Berklee College of Music and won a scholarship to continue my education in the US. So in 1994 I moved to Boston where I graduated in 98.

Tell us about your debut album Last Quarter Moon?
Last Quarter Moon is a collection of snapshots of my life. I left home at a very young age to pursue the dream of becoming a musician, and I left many things behind. It's been very hard at times and very rewarding at others. Last Quarter Moon stretches along the line where departure meets arrival, achievement meets loss. The last quarter moon, rarely mentioned in poetry and literature, is the last bit of moon before a new moon is born. I find it extremely appealing, because it's a moment of uncertainty, which evokes a conflict between the sense of renewal and the permanence of elements of the past. The one that encouraged me to write songs was Russ Titelman after he heard a demo of the first song I ever wrote ("Parole Incerte"). He worked with me for a year then got me signed to Verve and produced my record. It's been an incredible experience.

What is your favorite song from the Last Quarter Moon?
I don't have a favorite song. They are all very special to me.

Is it difficult producing an album in which you have songs in English and in Italian?
Not for me, and I think not for Russ. I had no choice. I'm Italian after all, I could not possibly neglect my roots, and English is what I've been speaking for the past 10 years.

Is there any singer you try to model yourself after?
No. There are many singers I admire though. Joao Gilberto, Elis Regina, Bjork, Oum Kalthoum, Mina, Paolo Conte, Amalia Rodriguez, Tony Bennett, Nat King Cole.

Are there any projects that you are currently working on?
I'm currently promoting my record and I'm always working on new songs.

If you could do a duet with any singer in the world who would it be?
Well, after singing a duet with Tony Bennett (of pending release) I don't know what else I could dream of. I'd like to sing a duet with Sting at some point and Stevie Wonder.

What words of advice do you have for aspiring singers?
It does not matter how much you study. It's very important to have idols and mentors, but at the of the day what will make a good singers a great artists is to stay tuned into the pleasure of doing it and to the same great feeling they felt when they sang their first song.

Do you have time for hobbies or interests?
Of course! My friends are my treasure, and I love cinema and books. I swim a lot too.


Related Links:
ChiaraCivello.com
Berklee College of Music
Saint Louis College of Music
| | |
| --- | --- |
| | |
| | |
Follow Us
Featured Item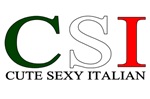 Shirts & Novelties
---
Partner Links Shops/Stores Italiansrus Gear
Proudly display the colors of Italy with these great products.

FORZIERI.com

The world largest online retailer for Premium Italian Fashions.
---
Travel Tour Italy
Customize your trip to Italy.