---
Resources
Art, Cuisine, Famous Italians, Festivals, Folklore, Genealogy, Holidays, Hotels, Photos, Real Estate, Sports, Travel and More
---
Guides
---
Surname Collection
Add your name to the collection.
---
Recipes
Authentic Italian recipes for you to enjoy.
---
Photo Galleries
Enjoy photos of Italy, wine making & more.
---
Proverbi
Proverbs in Italian & English.
---
Our Paesani
Weekly column dedicated to today's Italy.
by Francesca Di Meglio
---
Italian Memories
Articles on growing up Italian.
by Cookie Curci
---
Una Mamma Italiana
Articles for Italian mammas.
by Tiffany Longo
---
Learn Italian
English-Italian guides
Spanish-Italian guides.
---
Molto Italiano
Sign up for our FREE newsletter.
---
Trivia
Test your knowledge of Italy.
---
Mount Etna
Latitude: 37.734°N 37°44'3"N
Longitude: 15.004°E 15°0'16"E
Mount Etna is located on the east coast of the Island of Sicily and it lies north of Catania, which is Sicily's second largest city. It rises approximately 10,991 feet (3,350 m), this number will vary each time it erupts, making it the highest active volcano in Europe. It is considered to be a complex volcano, because it is a mixture of a shield, stratovolcano and a caldera volcano.
To the surprise of many Mount Etna is considered to be a rather friendly volcano as opposed to a killer volcano. This is why it has been nicknamed the friendly giant. You might ask how can something this destructive be considered friendly? Since recorded history of the volcano, which started in 1500 B.C., Mount Etna has only been responsible for 77 confirmed fatalities as a result of its eruptions. In that time Mount Etna has erupted approximately 190 times thus causing a fatality every 2.5 times it erupts. One of the contributing factors to there being very few fatalities is the fact that the lava moves slowly down the mountain allowing the people below enough time to evacuate the area.
Perhaps the most destructive eruption from Mount Etna came in 1669. This is when lava flowed down the slope and ended up destroying a dozen villages. In its destruction it managed to cover the western portion of Catania. This eruption had historical importance because it is considered to be the first known attempt in history that people dug trenches to divert the lava.
One of the main areas of Mount Etna is the Valle del Bove (Valley of the oxen), which is a deep valley located on the eastern flank of the volcano. The origin of the name may still be a mystery, but this area of the volcano just may hold the key to unlocking the evolution of Mount Etna. Researchers have been studying the valley and in the process they have been able to reconstruct some of the events that have taken place throughout Mount Etna's history.
To add to the intrigue there are many myths and legends surrounding Mount Etna. Some of the more popular ones state that Etna was the location of the forge of Hephaestus/Vulcan the god of fire. It was also believed to be the home of Cyclops the one eyed monster. Another myth stated that it is where Zeus buried the giant Enceladus. Everytime the giant breathed it would cause eruptions and anytime he moved it would cause the earth to quake. These are just a few of the stories from Greek and Roman mythology that mention the great fire breathing volcano.
Related Sites
• Etna Iitineraries
• Etna Web Cam
• Gruppo Guide Etna Nord
• Vulcano Etna

| | |
| --- | --- |
| | |
| | |
Follow Us
Featured Item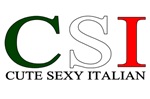 Shirts & Novelties
---
Partner Links Shops/Stores Italiansrus Gear
Proudly display the colors of Italy with these great products.

FORZIERI.com

The world largest online retailer for Premium Italian Fashions.
---
Travel Tour Italy
Customize your trip to Italy.