---
Resources
Art, Cuisine, Famous Italians, Festivals, Folklore, Genealogy, Holidays, Hotels, Photos, Real Estate, Sports, Travel and More
---
Guides
---
Surname Collection
Add your name to the collection.
---
Recipes
Authentic Italian recipes for you to enjoy.
---
Photo Galleries
Enjoy photos of Italy, wine making & more.
---
Proverbi
Proverbs in Italian & English.
---
Our Paesani
Weekly column dedicated to today's Italy.
by Francesca Di Meglio
---
Italian Memories
Articles on growing up Italian.
by Cookie Curci
---
Una Mamma Italiana
Articles for Italian mammas.
by Tiffany Longo
---
Learn Italian
English-Italian guides
Spanish-Italian guides.
---
Molto Italiano
Sign up for our FREE newsletter.
---
Trivia
Test your knowledge of Italy.
---
Quercia delle Streghe (Oak of the Witches)
By Anthony Parente

Nestled in the Tuscan forest within the garden of Villa Carrara in San Martino in Colle (Capannori, Lucca) is a 600 year old enchanted oak tree that has sprouted many legends and tales. This magical tree is unique in shape with a trunk over four meters (over 13 feet) in circumference and a height of over twenty-five meters (over 82 feet). What makes this tree different from all the other trees in this species is that the branches expand parallel to the ground. There is one particular tale that explains why the oak trees branches grow outward instead of upward and it is why some call this la Quercia delle Streghe (the Oak of the Witches).

The legend that spurred the name la Quercia delle Streghe tells us that this is where witches gathered to perform their rituals and ceremonies. The chants and incantations stunted the growth of the tree giving it the unusual appearance. The witches even danced on the branches during their ceremonies. This is not the only name that this tree is often referred to. Many call this the Quercia di Pinocchio (Pinocchio's Oak). It is underneath this very oak tree that Carlo Lorenzini (better known by the pen name Carlo Collodi) wrote part of his popular children's book The Adventures of Pinnochio. The oak tree inspired the scene where Pinocchio was being chased by two bandits who wanted to steal his gold pieces. They eventually caught Pinocchio and hanged him from an oak tree. Fortunately Pinocchio was saved by the Blue Fairy.

This enchanted tree has been officially recognized as a national monument by the Italian government and due to its size and shape it is a reference point on NATO maps.
| | |
| --- | --- |
| | |
| | |
Follow Us
Featured Item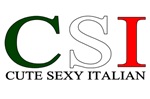 Shirts & Novelties
---
Partner Links Shops/Stores Italiansrus Gear
Proudly display the colors of Italy with these great products.

FORZIERI.com

The world largest online retailer for Premium Italian Fashions.
---
Travel