---
Resources
Art, Cuisine, Famous Italians, Festivals, Folklore, Genealogy, Holidays, Hotels, Photos, Real Estate, Sports, Travel and More
---
Guides
---
Surname Collection
Add your name to the collection.
---
Recipes
Authentic Italian recipes for you to enjoy.
---
Photo Galleries
Enjoy photos of Italy, wine making & more.
---
Proverbi
Proverbs in Italian & English.
---
Our Paesani
Weekly column dedicated to today's Italy.
by Francesca Di Meglio
---
Italian Memories
Articles on growing up Italian.
by Cookie Curci
---
Una Mamma Italiana
Articles for Italian mammas.
by Tiffany Longo
---
Learn Italian
English-Italian guides
Spanish-Italian guides.
---
Molto Italiano
Sign up for our FREE newsletter.
---
Trivia
Test your knowledge of Italy.
---
How Anthony Bourdain Brought the Real Italy to the World
As the world still reels from the passing of this celebrity chef, I canít help but be grateful for his revelations about the Boot
Our Paesani
By now youíve probably heard about how Anthony Bourdain killed himself in a hotel in France while there to shoot his CNN show Parts Unknown. His best friend and fellow chef Eric Ripert, who was joining him in the shoot, found him unresponsive June 8, 2018.
Bourdainís success lies in his distinct ability to connect viewers to people in different parts of the world. Choosing all the right words, sharing all the right dishes, and ever proving the point that weíre all the same race–human, he united us all with the universal language of food.
He was able to break bread and have conversations free of judgment. Bourdain always left it up to viewers to form their own opinions about the politics and cultural and social issues presented over a dish of rabbit or a bowl of noodles. Along with his best-selling books, these TV moments earned him the reputation of being one of the best storytellers of our time.
Not surprisingly, I found his episodes about places in Italy to be the most interesting. I presume he had a fondness for the people because he grew up in the town next door to mine in New Jersey, which was loaded with Italian Americans when he was a kid. Also, he married one Italian woman, Ottavia Busia, who is from Sardinia, with whom he had a daughter, who is now 11 years old. And at the time of his death he was dating another Italian woman, the actress and Rome resident Asia Argento.
My brother, who is in the food industry, was a bigger fan than I was for obvious reasons. I had not really paid much attention to his first successful show on the Travel Channel, No Reservations. But when Bourdain moved to CNN, he was speaking my language. As a news junkie, I could not get enough of this form of journalism. Although Bourdain never wanted to be called a journalist, he was one even if reluctantly. No one constructed the bridge between Italians and the rest of the world better than Bourdain. Like a journalist, he explained the politics and crises of the day through the lens of the dinner table. It was genius, really.
On CNN, he visited Sicily, Rome, and Puglia to name a few parts of Italy he highlighted over the years. There was always an underlying reason for the episode, such as economic crisis or an upcoming vote at a time when populism had people thinking about the resurrection of someone like Mussolini. In fact, that episode in Rome was an important one for me. It really made me feel as though he was capturing the Italy I know.
To be honest, Iíve spent limited time in Rome. I live in my familyís native Ischia, a small island off the coast of Naples, when Iím in Italy. But Bourdain, as he always did, tried to walk in the shoes of the natives. He sat at a bar just outside of Rome with locals. He talked to them. It was just like the experiences I have when I grab apperitivi with my husbandís friends or my own relatives on Ischiaís main drag.
One of the older gentleman was calling out a woman talking about eating cookies and espresso for breakfast; he pointed out her diabetes prevents that from being true. Another local was showing off about his former career and looking right at the camera to talk, so his friend yelled at him for doing this all wrong.
The group shared laughs and a few serious moments when talking about the status of the suburbs of Rome. It was a true picture of what natives might experience in a typical day. Thatís what they do together, thatís how they associate with one another – at the coffee bar. Italy had Starbucks before there was Starbucks. Unlike our U.S. Starbucks, no one is sitting with a laptop ignoring their neighbors. They go to the bar to gather, to see and be seen, to connect.
Of course, food is a big part of the Italian lifestyle. Bourdain and his crew exquisitely showed you beautiful dishes that you wanted to grab from the screen. Even the Roman artichoke and prosciutto antipasto had me salivating. Its beauty lies in its simplicity, which is at the heart of Italian cuisine. Even those who had never been to the Boot, nor had the experience of growing up Italian, could see this on the show. It spoke a million truths about the place and people I know.
Another moment I relished was in another episode that included a scene of people fishing in southern Italy. They were led by a woman, which was striking. This small part of the program showed the uncomfortable and complicated relationship southern Italy has with its women.
On the one hand, they are tough as nails and nobody messes with them. On the other hand, they donít usually have the opportunity to be in charge out in the world Ė and certainly not when fishing. I thought it was a wonderful way to depict that struggle. Thereís no resolution yet, but you could see it unfolding. It doesnít get realer than that.
The fact that a native was showing him how to properly kill and clean a wild boar for cooking at another point in one of his shows about Italy was just a cherry on top for me. In Ischia, older people will often bring you a live chicken or rabbit and kill it in front of you as a gift. They want you to know itís fresh. I could relate. Iíd lived it. And now the world was living it.
To honor Bourdain, check out one of these episodes on CNN or Netflix. You will have the chance to remember the man who literally had the whole world in his hands, while also connecting with your own people or the nitty-gritty Italy you may have never known otherwise.
Di Meglio has written the Our Paesani column for ItaliansRus.com since 2003. You can follow the Italian Mamma on Facebook or Twitter @ItalianMamma10.
Article Published 6/11/18
| | |
| --- | --- |
| | |
| | |
Follow Us
Featured Item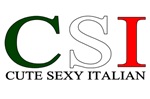 Shirts & Novelties
---
Partner Links Shops/Stores Italiansrus Gear
Proudly display the colors of Italy with these great products.

FORZIERI.com

The world largest online retailer for Premium Italian Fashions.
---
Travel