---
Resources
Art, Cuisine, Famous Italians, Festivals, Folklore, Genealogy, Holidays, Hotels, Photos, Real Estate, Sports, Travel and More
---
Guides
---
Surname Collection
Add your name to the collection.
---
Recipes
Authentic Italian recipes for you to enjoy.
---
Photo Galleries
Enjoy photos of Italy, wine making & more.
---
Proverbi
Proverbs in Italian & English.
---
Our Paesani
Weekly column dedicated to today's Italy.
by Francesca Di Meglio
---
Italian Memories
Articles on growing up Italian.
by Cookie Curci
---
Una Mamma Italiana
Articles for Italian mammas.
by Tiffany Longo
---
Learn Italian
English-Italian guides
Spanish-Italian guides.
---
Molto Italiano
Sign up for our FREE newsletter.
---
Trivia
Test your knowledge of Italy.
---
Papa's Radio: The Gift of True Friendship
Page 3
Continued from page 2
Italian Memories
by Cookie Curci
The knock on Papa's door came early that December morning in 1941. It brought with it a special delivery letter from the government of the United States declaring that Papa must surrender all radios on his premises Effective immediately!
Papa Vincenzo had no political ties to his former country. He had worked and lived in America for over 30 years, and had raised his children and grandchildren as honest, hard working American citizens. But the fact remained the he was a native of Italy , a country now ruled by the fascist tyrant Benito Mussolini, who had chosen to side with the Axis powers against the United States.
As Papa read the dispatch, tears of indignation rolled down his face. Losing his radio would be sad enough, but Papa was more concerned that he might lose the company and respect of his friends in the community, which he had earned for over 30 years.
More than anything else, Papa prided himself on his honest and high moral character. His word had always been his bond. How he feared that a war thousands of miles away had cast a shadow of aspersions over him. It appeared Papa's fears were well founded; some of his employers, leery of Italian aliens, had begun canceling their job offers. Papa worried that his longtime friendship with the Goldsteins, the Rosenbergs and the Millers was also in jeopardy. Would they also view him differently now? Could they somehow believe he shared the same political views and beliefs as the terrible tyrant Mussolini?
That Christmas Eve, in 1941, Papa and Great-Grandma sat quietly in their favorite chairs warming themselves by the fire. Papa couldn't help but miss the raucous sounds of his radio, moreover he missed the daily banter with his friends and neighbors, which he feared he had now lost.
A knock on the door brought Papa quickly to his feet. He approached his front door with trepidation. Opening the door, Papa was relieved and surprised to find the warm familiar faces of his old pals the Goldsteins, the Rosenbergs and the Millers standing on his front stoop.
---
| | |
| --- | --- |
| This article by Cookie Curci is featured in the book titled Opening the Gifts of Christmas : Practicing the Angelic Gifts of Faith, Hope, Charity, and Love by Jennifer Basye Sander and Jamie Miller. You can purchase a copy by clicking on the book to your right. | |
| | |
| --- | --- |
| | |
| | |
Follow Us
Featured Item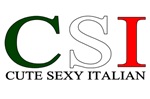 Shirts & Novelties
---
Partner Links Shops/Stores Italiansrus Gear
Proudly display the colors of Italy with these great products.

FORZIERI.com

The world largest online retailer for Premium Italian Fashions.
---
Travel