---
Resources
Art, Cuisine, Famous Italians, Festivals, Folklore, Genealogy, Holidays, Hotels, Photos, Real Estate, Sports, Travel and More
---
Guides
---
Surname Collection
Add your name to the collection.
---
Recipes
Authentic Italian recipes for you to enjoy.
---
Photo Galleries
Enjoy photos of Italy, wine making & more.
---
Proverbi
Proverbs in Italian & English.
---
Our Paesani
Weekly column dedicated to today's Italy.
by Francesca Di Meglio
---
Italian Memories
Articles on growing up Italian.
by Cookie Curci
---
Una Mamma Italiana
Articles for Italian mammas.
by Tiffany Longo
---
Learn Italian
English-Italian guides
Spanish-Italian guides.
---
Molto Italiano
Sign up for our FREE newsletter.
---
Trivia
Test your knowledge of Italy.
---
Plautilla Nelli: a new Renaissance for women artists
Nelli's Last Supper, pre-conservation
Photo: Francesco Cacchiani
For centuries, women artists have represented 'the hidden half' of art history.
A global campaign to restore the largest work by a female Renaissance artist in the world
sheds light on Plautilla Nelli's legacy and calls upon art lovers to come to its rescue.
Rescuing Nelli's masterpiece… online

Plautilla Nelli, The Last Supper, detail Jesus and John, during restoration.
Photo: Francesco Cacchiani

Plautilla Nelli's Last Supper (1570s) is one of the most important paintings in the history of art by women. It is "The First Last": the first and possibly only representation of a Last Supper by a female hand. With a length 21 feet, it is also the largest painting ever authored by an early woman artist. Recently confirmed property of the City of Florence, this masterwork had been hidden from the public eye for 450 years in the private monastery of Santa Maria Novella. This conservation project will save the canvas from decay and provide new insight into the painterly techniques of Nelli, the first woman artist of Florence.

A self-taught artist and Renaissance woman in every way, Nelli tackled large-scale commissions despite social conventions of her era. One of the few women featured in Giorgio Vasari's Lives of Artists, Nelli was also an entrepreneur whose art graced the homes of Florentine nobles. She trained other women painters in her self-sufficient convent-bottega and is 'the artistic heir' of Fra' Bartolomeo of the San Marco School, whose 500 drawings she inherited. Her works are present in Florentine collections including San Marco Museum, San Salvi and Palazzo Vecchio. The time has come to salvage and rediscover her legacy.

The Advancing Women Artists Foundation (AWA) will restore Nelli's masterwork to its original dignity with the help of the art-loving public through an international crowdfunding campaign on the Indiegogo platform. The goal of #TheFirstLast is to raise $65,000 in 46 days from March 1 to April 16, 2017. The painting, whose restoration is scheduled for completion in April 2018, will be permanently displayed at the Santa Maria Novella Museum, destined to become the city's next internationally-acclaimed venue thanks to a far-reaching renovation project that is currently in the works, spearheaded by Florence's mayor, Dario Nardella.

Nelli's Uffizi debut
TheFirstLast kicks off exactly one week before International Women's Day on March 8 when Nelli's first-ever solo exhibition opens at the Uffizi Galleries (until June 4, 2017). This much-awaited show is the brainchild of museum Director Eike Schmidt, who has announced that Nelli's will be the first in a long line of exhibitions featuring women artists, both historic and contemporary. The catalogue Plautilla Nelli: Art in the Footsteps of Savonarola and the documentary short by the same name screened during the exhibition are both underwritten by AWA, which has also supported the restoration of five paintings and two manuscripts for the Uffizi show, several which are new attributions.
During restoration, detail
Photo: Francesco Cacchiani

AWA: Making 'invisible' women artists visible
The rediscovery and restoration of Plautilla Nelli's entire oeuvre is being led by the Florence-based American non-profit, and by AWA's founder, author and philanthropist Jane Fortune, who has spent the past decade researching, restoring and exhibiting forgotten treasures by historic women artists. Since 2007, AWA has rediscovered over 2,000 artworks by women in Florence's museums, many of which are languishing in storage and in dire need of restoration. AWA has restored 21 works by Nelli, in addition to 21 other artworks from the 16th to the 20th centuries by artists such as Artemisia Gentileschi, Violante Siries and Elisabeth Chaplin for the likes of the Pitti Palace, Santa Croce and the Academia Gallery. "Few people know that Florence has been a powerhouse for art by women for more than five centuries," Fortune explains. "Nelli was an artist who succeeded against all odds. She is the prime inspiration behind our mission: to give historic women artist a voice in history."

How salvaging the Last Supper is changing the lives of art lovers
Through crowdfunding and the visibility of her upcoming Uffizi show, AWA hopes that the world will come to know the name Plautilla Nelli. Italian actress Elena Sofia Ricci, star of the Rai TV show 'Che Dio ci Aiuti', sums up the impact of AWA's actions for Nelli: "This masterpiece allows us to reflect on all Nelli achieved despite the social limitations of her time. She painted a Last Supper like all the Florentine masters of her era, even if women were not considered capable of great artistic endeavors—and she signed it! I find it important that AWA insists upon creating a connection between women of the past and women today. If we take a stance to salvage our creative past, that is the first step to guaranteeing our own legacies as women of skill and talent in the future."

Florence mayor Dario Nardella affirms: "Nelli is an example of female creativity, but as with many other women, her work has not had a voice [in history]. As Mayor of the City of Florence, I invite you to support the AWA Foundation's initiative, because all that you do to restore this Last Supper by Plautilla Nelli will be extremely important, not only for our city, but for the whole world—and for all of you personally."

The Crowdfunding Campaign
AWA has chosen the crowdfunding platform Indiegogo as a tool both for fundraising and communicative outreach. The Florentine, Florence's English-language news magazine, is the campaign's media partner. The aim is to involve art-lovers around the world in rediscovering Plautilla Nelli and reclaiming her rightful place in history. The USA tax-deductible contributions made through this platform include benefits at various levels. Exclusive prizes developed with some of Florence's top modern-day creative talents include tickets to the English-language live theater production, "The Medici Dynasty Show"; a handcrafted pendant in pounded silver or gold representing a palette and curved paintbrush by Nerdi Orafo, commemorating creative women in history 'who bent the rules'; an exclusive yet-to-be-released custom scent, Invisible, created for AWA by Florentine artisanal profumerie AquaFlor as a tribute to 'Invisible' female artists of the past; and a luxury weekend-package gifted by Florence's Hotel Savoy, Rocco Forte Hotels.

#TheFirstLast
Restoring Plautilla Nelli's Last Supper
March 1 – April 16, 2017

Information and images provided by the Advancing Women Artists Foundation, Italy
| | |
| --- | --- |
| | |
| | |
Follow Us
Featured Item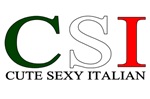 Shirts & Novelties
---
Partner Links Shops/Stores Italiansrus Gear
Proudly display the colors of Italy with these great products.

Italian Charms

Huge selection of Italian charms and jewelry. FORZIERI.com

The world largest online retailer for Premium Italian Fashions.
---
Cuisine/Food CyberCucina.com
Fine gourmet foods and more. Gustobene.com
Use code Italiansruspromo to receive a 10% discount off your entire purchase.
---
Travel Tour Italy
Customize your trip to Italy.