---
Resources
Art, Cuisine, Famous Italians, Festivals, Folklore, Genealogy, Holidays, Hotels, Photos, Real Estate, Sports, Travel and More
---
Guides
---
Surname Collection
Add your name to the collection.
---
Recipes
Authentic Italian recipes for you to enjoy.
---
Photo Galleries
Enjoy photos of Italy, wine making & more.
---
Proverbi
Proverbs in Italian & English.
---
Our Paesani
Weekly column dedicated to today's Italy.
by Francesca Di Meglio
---
Italian Memories
Articles on growing up Italian.
by Cookie Curci
---
Una Mamma Italiana
Articles for Italian mammas.
by Tiffany Longo
---
Learn Italian
English-Italian guides
Spanish-Italian guides.
---
Molto Italiano
Sign up for our FREE newsletter.
---
Trivia
Test your knowledge of Italy.
---
Nonna's Sunflowers
Part 2 of 2: Nonna's Sunflowers Produced Magical Moments
Continued from part 1
Italian Memories

by Cookie Curci

I spent many of my summer week-ends with nonna. On one occasion, a warm night and a full moon inspired me to open my bedroom window overlooking Nonna's garden. As if expecting something remarkable to happen, I keenly surveyed Nonna's herbs and sunflowers under the moonlight. I remembered how her herbal remedies were almost magical in their curative powers- perhaps I was hoping to see some of that magic . I don't know how long I sat staring out the window.

The last glimmer of moonlight was just about to fade behind a passing cloud when Nonna's stately sunflowers, stiff as fence posts just minutes before, suddenly began shimmying violently like hootchy-kootchy dancers. Silhouetted against the moon, the imposing row of sunflowers formed a long, rhythmic, conga line in this uniquely choreographed dance. A moment later, rosemary, mint and oregano stems, like scrawny ballerinas, began to pirouette and sway as they joined in the impromptu minuet. Summer blossoms suddenly unfolded, filling the air with tantalizing fragrance.

A flock of night birds feasting on the sunflower heads had caused them to buckle and sway in the herky-jerky motion. Tiny winged insects and hungry night crawlers dinning on the succulent herbs had encouraged the rhythmic movement of the burgeoning blossoms. Nonna's garden had come to life, just for me, and its heart beat softly to the rhythm of summer winds and fluttering birds' wings.

Today, on hot summer nights, when I open my own bedroom windows overlooking my little garden, a sigh of sage, lavender, and sweet basil rise to greet me like Nonna's gentle touch. Her golden sunflowers still grace my garden always reminding me of her sunny smile.

Part 1: Summer Nights and Sunflowers
---
Related Articles:
| | |
| --- | --- |
| | |
| | |
Follow Us
Featured Item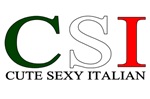 Shirts & Novelties
---
Partner Links Shops/Stores Italiansrus Gear
Proudly display the colors of Italy with these great products.

FORZIERI.com

The world largest online retailer for Premium Italian Fashions.
---
Travel