---
Resources
Art, Cuisine, Famous Italians, Festivals, Folklore, Genealogy, Holidays, Hotels, Photos, Real Estate, Sports, Travel and More
---
Guides
---
Surname Collection
Add your name to the collection.
---
Recipes
Authentic Italian recipes for you to enjoy.
---
Photo Galleries
Enjoy photos of Italy, wine making & more.
---
Proverbi
Proverbs in Italian & English.
---
Our Paesani
Weekly column dedicated to today's Italy.
by Francesca Di Meglio
---
Italian Memories
Articles on growing up Italian.
by Cookie Curci
---
Una Mamma Italiana
Articles for Italian mammas.
by Tiffany Longo
---
Learn Italian
English-Italian guides
Spanish-Italian guides.
---
Molto Italiano
Sign up for our FREE newsletter.
---
Trivia
Test your knowledge of Italy.
---
Pastiera: A Sweet Taste of Naples at Easter
Part 2 of 2: Pastiera's Present
Our Paesani
Any holiday in Italy means you'll be offering in-person greetings to your family and friends. And you'll have to sample the pastiera at each house you go to. Remember, every woman in Naples (and all its islands and towns) thinks she makes the best pastiera, and each pie will be different. After about the fourth or fifth piece, you are going to want to vomit. But it's your duty to swallow, smile, and say, "Buona!"
Many families have passed down a pastiera recipe for generations, and they've all put their own spin on the traditional dessert. Some serve it with lots of candied fruit inside, others without. Some soak their own wheat, others buy pre-soaked wheat. Some – usually those from regions outside of Naples' Campania - blasphemously make it with rice instead of wheat. This other version is commonly found in the United States, too.
For Neapolitans, the wheat is key because it symbolizes resurrection, the very essence of Easter, says Michele Topor, an Italian cuisine expert, who runs North End Market Tours in Boston. As Topor points out during her tour, pastiera is becoming more popular in the United States, thanks to an influx from Italy of more authentic products, such as the necessary wheat berries.
"It's amazing that many people from all over the country keep buying the pastiera [from our Web site]," says Mimmo Magliulo, a native of Torre del Greco just outside of Naples and owner of Buonitalia in New York. Magliulo and his family make about 300 pastiere to sell during Easter. He stresses that Americans are taken with his family's recipe because it's not as heavy as the traditional pastiera. They use butter and not lard and only the freshest of ricotta straight from Italy. They also eliminate the candied fruit.
They're not the only ones to leave out the candied fruit, which is popular in Italy but not so much in the States. Maria Merola, owner of Maria's Pastry Shop in Boston, also took out the citron. Her famous pastiera is available to customers during Holy Week. But old-school Italians can special order the traditional pastiera with citron. So, why has this Neapolitan treat become a favorite with Americans, too? "Once they taste it, they can't do without it," says Merola.
But bakers across the world agree that making pastiera is more an art form than a science. Figuring out the right amount of eggs to match the consistency of your ricotta is something that comes from lots of practice, says Vito Lenny Masi, owner of Albina's Bakery on East Tropicana in Las Vegas. Masi learned how to make pastiera about 50 years ago from native Italian bakers. "The old bakers wouldn't put the new bakers near the pastiera pot because we didn't know as much as they did," says Masi, who was born into a Barese family in the States.
Just how can you tell if you've got the recipe down? "If you're satisfied with it and your family likes it, then you've got a good pastiera," adds Masi. Simple as pie.
Part 1: Pastiera's Past
| | |
| --- | --- |
| | |
| | |
Follow Us
Featured Item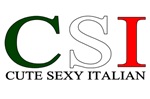 Shirts & Novelties
---
Partner Links Shops/Stores Italiansrus Gear
Proudly display the colors of Italy with these great products.

FORZIERI.com

The world largest online retailer for Premium Italian Fashions.
---
Travel