---
Resources
Art, Cuisine, Famous Italians, Festivals, Folklore, Genealogy, Holidays, Hotels, Photos, Real Estate, Sports, Travel and More
---
Guides
---
Surname Collection
Add your name to the collection.
---
Recipes
Authentic Italian recipes for you to enjoy.
---
Photo Galleries
Enjoy photos of Italy, wine making & more.
---
Proverbi
Proverbs in Italian & English.
---
Our Paesani
Weekly column dedicated to today's Italy.
by Francesca Di Meglio
---
Italian Memories
Articles on growing up Italian.
by Cookie Curci
---
Una Mamma Italiana
Articles for Italian mammas.
by Tiffany Longo
---
Learn Italian
English-Italian guides
Spanish-Italian guides.
---
Molto Italiano
Sign up for our FREE newsletter.
---
Trivia
Test your knowledge of Italy.
---
The Italian American Woman's Tenacious Spirit
Page 2
Continued from page 1
Italian Memories
by Cookie Curci
But the best was yet to come for the Italian American women's political image. It came in the person of Geraldine Anne Ferraro, the first woman to run for Vice President of the Untied States on a major party ticket. Mrs. Ferraro earned a place in history as the first woman vice-presidential candidate on a national party ticket. In 1984, Mrs. Ferraro ran on the presidential ticket with Walter Mondale, but lost to the popular ex movie idol Ronald Reagan. Mrs. Ferraro was born in Newburgh, New York on August 26, 1935. Her father, an Italian immigrant, died when she was eight. Her mother worked as a seamstress. She skipped three grades, finished high school at 16, and won a college scholarship. She then taught second grade in the New York Public Schools for five years. During that time, she also put herself through Fordham Law School at night. She served in Congress, representing the ninth congressional district in Queens, New York, from 1979 to 1985.
In the medical world, the first woman ever to edit The Journal of the American Medical Association (JAMA) in its 116-year history is Catherine De Angelis, M.D. Vice dean at Baltimore's Johns Hopkins School of Medicine, she became a nurse, then put herself through college and medical school. A pediatrician and child advocate, she was born in Pennsylvania where her father worked in a silk mill. Dr. De Angelis became JAMA editor in 1999.
In the world of celebrity, Sophia Loren is considered to be the most famous Italian actress of all time. Though she is not American by citizenship, her many years of living in Hollywood and working in American films gives her the honorary status. Miss Loren was born Sofia Villani Scicolone on September, 20, 1934. She grew up in poverty in wartime in Pozzuoli, a town near Naples, where she gained the famous nickname "toothpick" because she was so thin. But that skinny little girl had a dream, to raise herself from poverty and use her talents to achieve her goals. By the second half of the 1950s, her star began to rise in Hollywood, with films such as 1957's Boy on a Dolphin and The Pride and the Passion, (in which she co-starred with Frank Sinatra). Loren became an international film star with a five-picture contract with Paramount Studios. Among her films at this time: Desire Under the Elms with Anthony Perkins (based upon the Eugene O'Neill play), Houseboat (a romantic comedy again co-starring Cary Grant), and George Cukor's Heller in Pink Tights. Loren demonstrated considerable dramatic skills and gained respect as a dramatic and comedy actress, especially in Italian projects where she more freely expressed herself, although she gained proficiency in the English language. In 1960, her acclaimed performance in Vittorio De Sica's Two Women earned her a multitude of awards and, along with the Cannes, Venezia and Berlin festivals' best performance prizes, the distinction of being the first actor to win a major category Academy Award (Best Actress) for a non-English language performance.
A generation earlier, actress, director and writer, Ida Lupino, made her mark as a film director. Miss Lupino's family originated in Naples, Italy, dating back to the renaissance, where they were entertainers, actors, jugglers, and puppeteers. Her determination to make it as a film director in a field dominated by men was greeted with great skepticism by Hollywood. But with her dauntless determination she achieved success as one of Hollywood's rare female directors. Ida Lupino was one of the first women to be elected to the prestigious Hollywood Director's Guild. She has two stars on the Hollywood Walk of Fame for her contributions to the fields of television and motion pictures.
Continued on page 3
| | |
| --- | --- |
| | |
| | |
Follow Us
Featured Item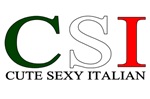 Shirts & Novelties
---
Partner Links Shops/Stores Italiansrus Gear
Proudly display the colors of Italy with these great products.

FORZIERI.com

The world largest online retailer for Premium Italian Fashions.
---
Travel