---
Resources
Art, Cuisine, Famous Italians, Festivals, Folklore, Genealogy, Holidays, Hotels, Photos, Real Estate, Sports, Travel and More
---
Guides
---
Surname Collection
Add your name to the collection.
---
Recipes
Authentic Italian recipes for you to enjoy.
---
Photo Galleries
Enjoy photos of Italy, wine making & more.
---
Proverbi
Proverbs in Italian & English.
---
Our Paesani
Weekly column dedicated to today's Italy.
by Francesca Di Meglio
---
Italian Memories
Articles on growing up Italian.
by Cookie Curci
---
Una Mamma Italiana
Articles for Italian mammas.
by Tiffany Longo
---
Learn Italian
English-Italian guides
Spanish-Italian guides.
---
Molto Italiano
Sign up for our FREE newsletter.
---
Trivia
Test your knowledge of Italy.
---
Old World Italian Style Romance
Part 2 of 2: Well Meaning Family Interference
Italian Memories
by Cookie Curci
The following week, Dad bravely presented himself at Mom's house with a box of candy and an invitation to see a movie. Mom readily accepted both offerings, anticipating the first time they'd actually spend some time alone together. But then Mom's kid sister Ann insisted on tagging along. After 20 minutes of little sister's nagging and whining, finally all three of them took off for the movie house together.
Later that week, on a Sunday afternoon, Mom's doorbell rang unexpectedly. When her Mama answered the door, she was surprised to find Dad standing there surrounded by his entire family, who appeared to be offering him moral support. Somewhat bewildered by their visit, Grandma invited her callers into the living room. No sooner had they all settled down than the doorbell rang again. This time it was Dad's older brother Ben, his wife and little boy. The living room was filling to capacity when the jingle of the doorbell sang again. Opening the door, Mom found Dad's sister, Rose, and her husband, Frank, waiting to come in.
Mom was perplexed by the sudden onslaught of Dad's family, most of whom she'd never met before: his Mama, Papa, six brothers, one sister, a brother-in-law, a sister-in-law and a young nephew, Benny. The room was crowded. Children doubled up on sofas and chairs. The boys were getting restless and began teasing their older brother. It was then that Papa Dinapoli stood up and took control of the situation. "Ben, Joe, Frank, Tony, Nick, and Sal," he yelled, "sit down, boys, and be quiet. Your papa has something to say!" Mom gazed at her parents, whose quizzical expressions seemed to ask, "What is this all about?"
Clearing his throat, and taking a large cigar from his breast pocket, Papa Dinapoli said, "My family and I have come here today to express our approval and give our blessings to the marriage of our son Rocci to your daughter Sari." Mom nearly fell off her chair. Her family's eyes gazed at her with shocked expressions. Her future father-in-law continued his verbalization: "Rocci is a hardworking, honest young man who would make a very good husband for your daughter, Sari, and if everyone is in full agreement, a wedding day should be set." Mom's face blushed every shade of red. She wasn't expecting a marriage proposal that soon, and not from Dad's entire family.
When Mom regained her composure, she managed to say, "I will" to Dad's unique proposal. Thanks to a little Old World old-fashioned meddling, Mom and Dad shared a happy marriage for 50 years. And today, some 60 years later, the story of that engagement remains one of Mom's most treasured memories.
Part 1: When Rocky Met Sari
| | |
| --- | --- |
| | |
| | |
Follow Us
Featured Item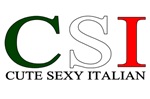 Shirts & Novelties
---
Partner Links Shops/Stores Italiansrus Gear
Proudly display the colors of Italy with these great products.

FORZIERI.com

The world largest online retailer for Premium Italian Fashions.
---
Travel