---
Resources
Art, Cuisine, Famous Italians, Festivals, Folklore, Genealogy, Holidays, Hotels, Photos, Real Estate, Sports, Travel and More
---
Guides
---
Surname Collection
Add your name to the collection.
---
Recipes
Authentic Italian recipes for you to enjoy.
---
Photo Galleries
Enjoy photos of Italy, wine making & more.
---
Proverbi
Proverbs in Italian & English.
---
Our Paesani
Weekly column dedicated to today's Italy.
by Francesca Di Meglio
---
Italian Memories
Articles on growing up Italian.
by Cookie Curci
---
Una Mamma Italiana
Articles for Italian mammas.
by Tiffany Longo
---
Learn Italian
English-Italian guides
Spanish-Italian guides.
---
Molto Italiano
Sign up for our FREE newsletter.
---
Trivia
Test your knowledge of Italy.
---
The Clever Girl
Page 2
Continued from page 1

There was a fine task to take home to his poor daughter! But Pina only laughed.

"Leave me the flax," she said; "and take the distaffs and spindles back; and tell the King that I am spinning busily; and that I shall make the shirts for his whole army when he has made me a loom out of these fishbones."

You may think that the peasant did not like to take such a message to the King. But he took it, nevertheless. Perhaps the King would be in a more reasonable humour this morning. When he repeated what Pina had said, the King stared in amazement. "Well, it's a bold daughter you've got, my man! She is no common girl. I should like to see her; and perhaps I can find her a husband. Tell her she may stop spinning the yarn; and she must come and see me here. But there is one condition"--the King loved to tease--"she must come neither with clothes on, nor naked, neither walking on her feet, nor riding on horse, ass, or mule. Ha! ha! Good-day to you, my man!"

"What next?" said the poor distracted father. "For all her cleverness this task is beyond her."

He gave her the King's message; and she only laughed. "Oh, that's easy enough!" she said.

Then she went to her room, took off her clothes, let down her long thick hair, which fell to her feet, and drew it close round her by a great net. Then she went out to the field, caught her father's old ram, put one foot over its back, and hopped along the road to the town on the other. Thus she reached the Palace.

When the King saw her he laughed aloud in great good humour; and he said, "One could never be dull with such a wife! Pina, will you marry me?"

So the King married Pina, the peasant's clever daughter, and they lived happily and merrily together. But one day, when he was riding out in the country, the King spied a fine horse grazing in a meadow. "That's a splendid animal!" he said. "I have not its like in my stud." And he ordered his servant to seize it and bring it back to the royal stables. Of course, the farmer who owned the horse was very angry, and came to claim it; but the King sent him away scornfully. Queen Pina, who had been present, begged him to act justly, to restore the horse and beg the farmer's pardon, or else offer to buy it for a fair price. But her husband was very obstinate, and refused.

Return to Italian Folktales Page
---
---
---
Macdonell, Anne. The Italian Fairy Book. London: T. Fisher Unwin LTD., 1911. 55-61
---
| | |
| --- | --- |
| | |
| | |
Follow Us
Featured Item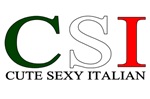 Shirts & Novelties
---
Partner Links Shops/Stores Italiansrus Gear
Proudly display the colors of Italy with these great products.

FORZIERI.com

The world largest online retailer for Premium Italian Fashions.
---
Travel