---
Resources
Art, Cuisine, Famous Italians, Festivals, Folklore, Genealogy, Holidays, Hotels, Photos, Real Estate, Sports, Travel and More
---
Guides
---
Surname Collection
Add your name to the collection.
---
Recipes
Authentic Italian recipes for you to enjoy.
---
Photo Galleries
Enjoy photos of Italy, wine making & more.
---
Proverbi
Proverbs in Italian & English.
---
Our Paesani
Weekly column dedicated to today's Italy.
by Francesca Di Meglio
---
Italian Memories
Articles on growing up Italian.
by Cookie Curci
---
Una Mamma Italiana
Articles for Italian mammas.
by Tiffany Longo
---
Learn Italian
English-Italian guides
Spanish-Italian guides.
---
Molto Italiano
Sign up for our FREE newsletter.
---
Trivia
Test your knowledge of Italy.
---
The Cock's Stone
Page 2
Continued from page 1

Meanwhile, the magicians, having discovered his great wealth, laid a plan to rob him of his good fortune. Now you must know that Minecco's wife died, but she left a little daughter called Pentella, whom he loved very dearly ; and they thought they could get at her father's treasures through her. So they made a pretty little doll, which played and danced by clockwork ; and dressing themselves like merchants they went to the house when Minecco was out and showed it to Pentella. Delighted with it, she asked its price ; and they replied it was not to be bought for money, but that she might have it and welcome if she would only do them a favour, which was to let them see the ring which her father possessed. They wished to take the model and make another like it. Then they would give her the doll without any payment at all.

Pentella, who had never heard the proverb, "Think well before you buy anything cheap," instantly accepted this offer ; and bidding them return the next morning, she promised to ask her father to lend her the ring. So the magicians went away, and when her father returned home Pentella coaxed and caressed him, until at last she persuaded him to give her the ring, making the excuse that she was sad at heart and wished to divert her mind a little.

When the next day came the magicians returned ; and no sooner had they the ring in their hands than they instantly vanished, and not a trace of them was to be seen ; so that poor Pentella had like to have died with terror.

But when the magicians came to a wood they desired the ring to destroy the spell by which the old man had become young again. And instantly Minecco, who was just at that minute in the presence of the King, was suddenly seen to grow hoary, his hairs to whiten, his forehead to wrinkle, his eyebrows to grow bristly, his eyes to sink in, his face to be furrowed, his mouth to become toothless, his beard to grow bushy, his back to be humped, his legs to tremble, and above all, his glittering garments to turn to rags and tatters!

The King, seeing this miserable beggar seated beside him at table, ordered him to be driven away with blows and hard words; whereupon Minecco went weeping to his daughter, and asked for the ring to set matters right again. But when he heard of the trick played by the false merchants he was ready to throw himself out of the window, cursing a thousand times the ignorance of Pentella, who for the sake of a silly doll had turned him into a scarecrow. Then he vowed he would travel about the world until he should get tidings of those merchants. So saying, he threw a cloak about his neck, slung a wallet on his back, drew his sandals on his feet, took a staff in his hand, and leaving his daughter frozen with horror at the mischief she had wrought, he set out on his journey.

Return to Italian Folktales Page
---
---
---
Macdonell, Anne. The Italian Fairy Book. London: T. Fisher Unwin LTD., 1911. 62-69
---
| | |
| --- | --- |
| | |
| | |
Follow Us
Featured Item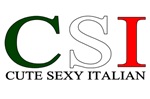 Shirts & Novelties
---
Partner Links Shops/Stores Italiansrus Gear
Proudly display the colors of Italy with these great products.

FORZIERI.com

The world largest online retailer for Premium Italian Fashions.
---
Travel