---
Resources
Art, Cuisine, Famous Italians, Festivals, Folklore, Genealogy, Holidays, Hotels, Photos, Real Estate, Sports, Travel and More
---
Guides
---
Surname Collection
Add your name to the collection.
---
Recipes
Authentic Italian recipes for you to enjoy.
---
Photo Galleries
Enjoy photos of Italy, wine making & more.
---
Proverbi
Proverbs in Italian & English.
---
Our Paesani
Weekly column dedicated to today's Italy.
by Francesca Di Meglio
---
Italian Memories
Articles on growing up Italian.
by Cookie Curci
---
Una Mamma Italiana
Articles for Italian mammas.
by Tiffany Longo
---
Learn Italian
English-Italian guides
Spanish-Italian guides.
---
Molto Italiano
Sign up for our FREE newsletter.
---
Trivia
Test your knowledge of Italy.
---
Companions of the Forest
Page 2
Continued from page 1

"You think so?" was his reply. "Ah, you do not know. Ours is indeed a most unhappy country! Near this place there hides a horrid, fearsome dragon. When he comes out of his lair his poisonous breath destroys all that come near him. You see how solitary it is. That is because all our people are leaving the land. Moreover, the monster demands that every day a human creature shall be offered him for his food. Were this refused, he would come out and devour the inhabitants far and near. Many poor folks have been thrown to him to stay his appetite; but he only gets greedier and greedier, and daintier and daintier; and now--what do you think?-he demands for his dinner to-morrow no one less than the beautiful young Princess Dorothea, the daughter of our King!"

"And no man goes forth to slay this horrid creature?" asked Caesarino, with spirit.

"It is impossible! No man dares! The poor King is wild with grief, but for the sake of his people he must give her up."

"I think the maiden will not die just yet," said Caesarino, quietly.

Next morning he was up and away betimes with his three companions before the hermit was awake. The four betook themselves to the place ordained for the sacrifice, where the King's daughter was already placed. Alone she stood in the middle of the road, her cowardly attendants having all fled. He looked on her beauty for a brief instant and his heart was filled with pity, but she seemed turned to stone with terror, and neither saw nor heard his approach. And, indeed, as he looked, on rushed the horrid monster towards her, his jaws open, his fiery eyes gleaming with savage delight at the thought of the delicate morsel awaiting him. Much too eager and ravenous was he to take any heed of the young man standing by. And if he had, what could a mere stripling do?

But Caesarino, just at the right moment, spurred on his animals, and with splendid courage they rushed to the attack, gripping the creature from behind and avoiding his poisonous breath. The dragon struggled fiercely; but he was powerless in their grip; and after a desperate combat, which lasted for some minutes, he fell on the road quite dead.

Caesarino called to the fainting damsel to arise and have no fear, and bade her run to her attendants, who stood trembling at a distance, and go home at once with them to her father. Then with his wood-knife he cut out the dragon's tongue, put it in his wallet, and went away with his three friends as quietly as if he encountered a dragon every morning of his life. All he said to the hermit on entering the hut was: You may now sleep in peace. The country is safe. The dragon is no more."

But soon after Caesarino had left the place of the sacrifice, a certain man passed the spot, and spied the dead monster. A rude, clownish, ruffianly person he was!

Return to Italian Folktales Page
---
---
---
Macdonell, Anne. The Italian Fairy Book. London: T. Fisher Unwin LTD., 1911. 1-10
---
| | |
| --- | --- |
| | |
| | |
Follow Us
Featured Item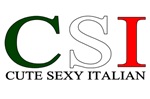 Shirts & Novelties
---
Partner Links Shops/Stores Italiansrus Gear
Proudly display the colors of Italy with these great products.

FORZIERI.com

The world largest online retailer for Premium Italian Fashions.
---
Travel