---
Resources
Art, Cuisine, Famous Italians, Festivals, Folklore, Genealogy, Holidays, Hotels, Photos, Real Estate, Sports, Travel and More
---
Guides
---
Surname Collection
Add your name to the collection.
---
Recipes
Authentic Italian recipes for you to enjoy.
---
Photo Galleries
Enjoy photos of Italy, wine making & more.
---
Proverbi
Proverbs in Italian & English.
---
Our Paesani
Weekly column dedicated to today's Italy.
by Francesca Di Meglio
---
Italian Memories
Articles on growing up Italian.
by Cookie Curci
---
Una Mamma Italiana
Articles for Italian mammas.
by Tiffany Longo
---
Learn Italian
English-Italian guides
Spanish-Italian guides.
---
Molto Italiano
Sign up for our FREE newsletter.
---
Trivia
Test your knowledge of Italy.
---
The Ghost of Michel Angelo
Page 2
Continued from page 1

"When some lady-artist goes to sketch or paint, be it al piazzale, in open places, or among the woods, it is his delight to get behind, and cause her to blunder, scrawl, and daub (fare degli scarabocchi). And when the artist is angered, she will hear a loud peal of laughter ; and if this irritates her still more, she will hear a song, and yet not perceive the singer. And when at last in alarm she catches up her sketch, all scrawled and spoiled, and takes to flight, she will hear the song following her, and yet if she turns her head she will see no one pursuing. The voice and melody are always beautiful. But it is marvellously lucky to have this happen to an artist, for when she gets home and looks at her sketch, she finds that it is neither scrawled nor daubed, but most exquisitely executed in the style of Michel Angelo."

It is marvellous how the teasing faun or Silvanus of the Romans has survived in Tuscany. I have found him in many forms, under many names, and this is the last. But why it should be Michel Angelo, I cannot imagine, unless it be that his face and stump nose, so familiar to the people, are indeed like that of the faun. The dii sylvestres, with all their endless mischief, riotry, and revelry, were good fellows, and the concluding and rather startling touch that the great artist in the end always bestows a valuable picture on his victim is really godlike-in a small way.

It is remarkable as a coincidence, that Michel Angelo was himself during life terribly annoyed and disturbed by people prying and speering about him while painting-especially by Pope Leo-for whom he nevertheless painted very good pictures. It would almost seem as if there were an echo of the event in the legend. Legend is the echo of history.

"This legend," remarks Flaxius, "may give a valuable hint to collectors. Many people are aware that there are in existence great numbers of sketchings and etchings attributed to Michel Angelo, Dürer, Raphael, Marc Antonio, and many more, which were certainly executed long since those brothers of the paint or pencil passed away. May it not be that the departed still carry on their ancient callings by the aid of new and marvellous processes to us as yet unknown, or by what may be called 'pneumato-gravure'? Who knows?-'tis a great idea, my masters ;-let us pass on or legit unto another legend!

"'Well I ween it may be true
That afar in fairyland
Great artists still pursue
That which in life they knew,
And practise still, with ever bettering hand,
Sculpture and painting, all that charm can bring,
While by them all departed poets sing.'"

Return to Italian Folktales Page
---
---
---
Leland, Charles Godfrey. Legends of Florence: Collected from the People And Re-told. New York: Macmillan and Co., 1895. 59-61
---
| | |
| --- | --- |
| | |
| | |
Follow Us
Featured Item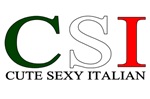 Shirts & Novelties
---
Partner Links Shops/Stores Italiansrus Gear
Proudly display the colors of Italy with these great products.

FORZIERI.com

The world largest online retailer for Premium Italian Fashions.
---
Travel