---
Resources
Art, Cuisine, Famous Italians, Festivals, Folklore, Genealogy, Holidays, Hotels, Photos, Real Estate, Sports, Travel and More
---
Guides
---
Surname Collection
Add your name to the collection.
---
Recipes
Authentic Italian recipes for you to enjoy.
---
Photo Galleries
Enjoy photos of Italy, wine making & more.
---
Proverbi
Proverbs in Italian & English.
---
Our Paesani
Weekly column dedicated to today's Italy.
by Francesca Di Meglio
---
Italian Memories
Articles on growing up Italian.
by Cookie Curci
---
Una Mamma Italiana
Articles for Italian mammas.
by Tiffany Longo
---
Learn Italian
English-Italian guides
Spanish-Italian guides.
---
Molto Italiano
Sign up for our FREE newsletter.
---
Trivia
Test your knowledge of Italy.
---
The Goblin of La Via del Corno
Page 3
Continued from page 2

"Now he did not know that in the cantina or cellar below this hiding-place there was an immense tino, or vat, containing hundreds of barrels of wine, such as are used to hold the rough wine ere it is drawn off and 'made;' nor that the floor was extremely decayed, so that when he came down on it with a bounce, it gave way, and he found himself in the cellar over head and ears in wine.

"And, truly, for a minute he deemed that he was drowning in earnest. And the sides of the vat were so high that he could not climb out. But while swimming and struggling for life, he caught between his thumb and finger at a nail in the side, and to this he held, crying as loud as he could shout for aid. But no one came, and he was just beginning to despair, when he thought of the horn!

"It still hung from his neck, and pouring out the wine, he blew on it, and there came forth such a tremendous, appalling, and unearthly blast as he of himself could never have blown. It rang far and wide all over Florence, it was heard beyond Fiesole, it wakened the dead in old Etrurian graves, for an instant, to think they had been called by Tinia to meet the eleven gods; it caused all the folletti, fate, diavoli, strege, and maliardi to stop for an instant their deviltries or delights. For it was the Great Blast of the Horn of the Fairies, which only plays second fiddle to the last trump.1

"And at that sound all Florence came running to see what was the matter. The Grand Duke and his household came; the Council of the Eight burst their bonds, and left the Palazzo Vecchio ; everybody came, and they fished out the Signore, and listened with awe to his tale. The priests said that the goblin was San Zenobio, the more liberal swore it was Crescenzio, the people held to plain San Antonino. The Signore became a great man.

"'My son,' said the goblin to him in confidence the following evening, as they sat over their wine (here I follow the text of Maddalena), 'this is our last night together. Thou art saved, and I have fulfilled my duty to thee. Once I, too, was a man like thee, and in that life thou didst save mine by rescuing me from assassins. And I swore to watch over thee in every peril, and bring thee to a happy end.'

"'II momento e arrivato ;
Addio, Via del Corno!
Addio, palazzo, addio!
Addio, padrone, nel altro mondo!'

"'The final hour has come for me;
Street of the Horn, farewell to thee!
Farewell, O palace, farewell, O street!
My lord, in another world we'll meet.'

"Then the goblin told the Signore that he would ere long contract a happy marriage, and that it was for this that he had hitherto kept him from forming alliances which would have prevented it ; and that if in future he should ever be in great need of assistance, to sound the horn, and he would come to him, but that this must always be in the palace alone after midnight. And having said this he vanished.

"The Signore grieved for a long time at the loss of his goblin friend, but he married happily, as had been predicted, and his life was long and prosperous. So he put the horn in his shield, and you may see it to this day on the Church of Santa Maria Novella. And so it was that the Via del Corno got its name."

"From which we may learn," saith Flaxius, "that wherever a man is appointed to be on a certain day, there will the man be found. Therefore do thou, O reader, so manage it that wherever thou art appointed to be, thou canst get well out of it. For even Fate smiles when it desires to do so."

1"Can a horn play second fiddle?" inquires Flaxius. "This comes of trying to improve on the simple Italian text."

Return to Italian Folktales Page
---
---
---
Leland, Charles Godfrey. Legends of Florence: Collected from the People And Re-told. New York: Macmillan and Co., 1895. 21-25
---
| | |
| --- | --- |
| | |
| | |
Follow Us
Featured Item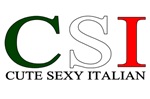 Shirts & Novelties
---
Partner Links Shops/Stores Italiansrus Gear
Proudly display the colors of Italy with these great products.

FORZIERI.com

The world largest online retailer for Premium Italian Fashions.
---
Travel