---
Resources
Art, Cuisine, Famous Italians, Festivals, Folklore, Genealogy, Holidays, Hotels, Photos, Real Estate, Sports, Travel and More
---
Guides
---
Surname Collection
Add your name to the collection.
---
Recipes
Authentic Italian recipes for you to enjoy.
---
Photo Galleries
Enjoy photos of Italy, wine making & more.
---
Proverbi
Proverbs in Italian & English.
---
Our Paesani
Weekly column dedicated to today's Italy.
by Francesca Di Meglio
---
Italian Memories
Articles on growing up Italian.
by Cookie Curci
---
Una Mamma Italiana
Articles for Italian mammas.
by Tiffany Longo
---
Learn Italian
English-Italian guides
Spanish-Italian guides.
---
Molto Italiano
Sign up for our FREE newsletter.
---
Trivia
Test your knowledge of Italy.
---
The Story of Romolo and Remolo
Page 2

One day the King was hunting in the forest, when he found himself alone, and surrounded by such a flock of raging wolves that his life was in great danger, when all at once there came a very beautiful woman, who seemed to have great power over the beasts, as if she were their queen, for they obeyed her and retreated. Then the King recognised in her his lost wife. So, they returned with the twins to their castle, but the King did not know that his wife and children were themselves were-wolves.

One day the same enemy who had sought to kill the Queen seven years before, of which the King knew nothing, came to the castle pretending to be a friend, and was kindly treated. But when the Queen and her two sons beheld him, they flew at him as if they were mad, and tore him to pieces before all the Court, and began to devour him like raging wolves. Yet still the King did not know the whole truth.

Then a brother of the King who was thus slain gathered an army and besieged Romo, who found himself in great danger. One evening he said:

"There is danger within the walls,
The sound of enemies without,
The sun set in blood,
To-morrow it may rise to death.
Would that I had more warriors to fight!
Two hundred fierce and bold;
Two hundred would save us all,
Three hundred would give us full victory."

The Queen said nothing, but that night she stole secretly out of the castle with her sons, and when alone they began to howl, and soon all the were-wolves in the country assembled. So the Queen returned with three hundred men, so fierce and wild that they looked like devils.

They were strange in every way, and talked or howled among themselves in a horrible language, which, however, the Queen and her sons seemed to understand. And in the first battle Romo gained a great victory. And it was observed that the three hundred men ate the dead. However, the King was well pleased to conquer.

Return to Italian Folktales Page
---
---
---
Leland, Charles Godfrey. The Unpublished Legends of Virgil. London: Elliot Stock, 1899. 1-4
---
| | |
| --- | --- |
| | |
| | |
Follow Us
Featured Item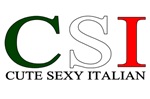 Shirts & Novelties
---
Partner Links Shops/Stores Italiansrus Gear
Proudly display the colors of Italy with these great products.

FORZIERI.com

The world largest online retailer for Premium Italian Fashions.
---
Travel