---
Resources
Art, Cuisine, Famous Italians, Festivals, Folklore, Genealogy, Holidays, Hotels, Photos, Real Estate, Sports, Travel and More
---
Guides
---
Surname Collection
Add your name to the collection.
---
Recipes
Authentic Italian recipes for you to enjoy.
---
Photo Galleries
Enjoy photos of Italy, wine making & more.
---
Proverbi
Proverbs in Italian & English.
---
Our Paesani
Weekly column dedicated to today's Italy.
by Francesca Di Meglio
---
Italian Memories
Articles on growing up Italian.
by Cookie Curci
---
Una Mamma Italiana
Articles for Italian mammas.
by Tiffany Longo
---
Learn Italian
English-Italian guides
Spanish-Italian guides.
---
Molto Italiano
Sign up for our FREE newsletter.
---
Trivia
Test your knowledge of Italy.
---
Where in the World are Antonio and Dante?
Antonio & Dante's Next Adventure
We are standing on the bridge that leads us to Castello Aragonese
"This is so awesome. Antonio this place looks amazing!"
"It sure does. Francesca's advice was great. We almost got off on the island of Procida. Boy that would have been confusing."
"Yeah really! We would have walked around aimlessly trying to figure out where the castle was."
"Francesca advice was awesome! Not only did we find our way to Ischia she gave us some great tips to get to the Castello Aragonese."
Here is what Francesca had to say:
"The best way to get to the Castello Aragonese, in my opinion, is to take a bus to Ischia Ponte and then walk the bridge from the piazza to the Castello Aragonese. You can get buses from most of the major piazzas in Ischia, but you might have to take more than one bus to get to Ischia Ponte, depending on where you are. If you can get to Ischia Porto, the main hub of the island, you can walk to Ischia Ponte. It takes about 20 minutes to walk from Ischia Porto to Castello Aragonese in Ischia Ponte. I do it often. Wear walking shoes and comfortable clothes. The bridge walk takes minutes and is not difficult. But if you plan on entering the castle, you must climb a bit and do more walking inside. The views of the town of Ischia Ponte are unbelievable from the castle."
Below are just some of the interesting facts about Castello Aragonese.
This was originally built as a castrum in 474 B.C.

Castrum is a plot of land or building that was used by Ancient Romans for a military defense

It was abandoned for a long period of time
It wasn't until the Aragonese dynasty took over that the castle began to flourish
It is connected to the island by a bridge that was built during Alfonso of Aragon's reign in 1438
Italian noblewoman and poet Vittoria Colonna lived in the castle during the 1500's
Over the years the castle has been used as a fortress, prison and even a love shack for the royals
Inside the castle, you will see old wine vats, a rooster or two walking around, and torture devices once used on enemies
Every year for the feast of Sant' Anna, people from Ischia and Procida create floats and have a floating parade by the castle (it's a contest to see which is best), the castle is all lit up and there are fireworks overhead
A family still resides in the castle
The view of Ischia and the sea is incredible from the castle. There is a lot to do on the island of Ischia so I do not think you would be disappointed if you spent the day or two.
"Ciao for now - see you next week for a whole new traveling adventure!"
How did you like our latest adventure? We would love to hear from you! Just send us an email to antonioanddante@italiansrus.com. Here is how you can help us on our journey.
---
Additional Resources:
Good Eats in Ischia
Ischia Island Guide
Ischia Photo Gallery
Tour Ischia from Home
Wine Making Unlocks Ischia's Culture
---
| | |
| --- | --- |
| | |
| | |
Follow Us
Featured Item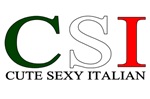 Shirts & Novelties
---
Partner Links Shops/Stores Italiansrus Gear
Proudly display the colors of Italy with these great products.

FORZIERI.com

The world largest online retailer for Premium Italian Fashions.
---
Travel