---
Resources
Art, Cuisine, Famous Italians, Festivals, Folklore, Genealogy, Holidays, Hotels, Photos, Real Estate, Sports, Travel and More
---
Guides
---
Surname Collection
Add your name to the collection.
---
Recipes
Authentic Italian recipes for you to enjoy.
---
Photo Galleries
Enjoy photos of Italy, wine making & more.
---
Proverbi
Proverbs in Italian & English.
---
Our Paesani
Weekly column dedicated to today's Italy.
by Francesca Di Meglio
---
Italian Memories
Articles on growing up Italian.
by Cookie Curci
---
Una Mamma Italiana
Articles for Italian mammas.
by Tiffany Longo
---
Learn Italian
English-Italian guides
Spanish-Italian guides.
---
Molto Italiano
Sign up for our FREE newsletter.
---
Trivia
Test your knowledge of Italy.
---
Where in the World are Antonio and Dante?
Antonio & Dante's Next Adventure
We are on a gondola in the Grand Canal
"Dante quit rocking the boat. You know I can't drive as it is and you are rocking back and forth trying to make us tip over."
"Yeah I know. Isn't it fun going back and forth over an over again? If we tip over at least we can swim to one of the houses along the canal."
"That is true, but I do not feel like getting wet. So knock it off and sit down."
Below are just some of the interesting facts about the Grand Canal in Venice.
It makes a large S-shape through the city
This is the main waterway of Venice
One end leads into the lagoon near the Santa Lucia railway station
The other end leads into Saint Mark Basin
It ranges from 30-70 meters wide (98-230 feet)
It is 3,800 meters long (2.36 miles)
The canal is lined with many beautiful palaces, churches and buildings dating from the 13th/18th century
It has been referred to by many people as the "most beautiful street in the world"
There are currently four bridges that cross the canal

Rialto Bridge - This is the oldest (construction was completed in 1591) and most famous bridge
Scalzi Bridge - Completed in 1934 this connects Santa Croce and Cannaregio
Accademia Bridge - If you are at San Marco this will be the first bridge you come to
Calatrava Bridge or Constituzione Bridge - This was built in 2008 by Spanish engineer Santiago Calatrava

On the first Sunday of September the Historical Regatta ("Regata Storica") takes place on the canal
On November 21st people cross a temporary pontoon bridge to celebrate the Feast of the Madonna della Salute
You can cross the canal by gondola, traghetti, motorboats or water buses (vaporetti)

Gondola Rides
Day-time rates run about 80 € for 40 minutes, with a maximum of 6 people per gondola (for each additional 20 minutes the cost is an extra 40 €)
Night-time rates (from 7pm to 8am) run about 100 € for 40 minutes, with a maximum of 6 people per gondola (for each additional 20 minutes the cost is an extra 50 €)
Itineraries can be found on the following website

Vaporetto Rides
You can purchase a one time ticket that lasts 1 hour or you can get yourself a tourist travel card (the travel card can be purchased in different time increments)
The ACTV website has additional information on fares, timetables and night service
The Grand Canal is definitely worth the visit. Although the price of a gondola ride can be pricey the view definitely makes the trip worthwhile.
"Ciao for now - see you next week for a whole new traveling adventure!"
How did you like our latest adventure? We would love to hear from you! Just send us an email to antonioanddante@italiansrus.com. Here is how you can help us on our journey.
---
Additional Resources:
Carnevale
Venice Photo Gallery
Venice Prints & Photos
---
| | |
| --- | --- |
| | |
| | |
Follow Us
Featured Item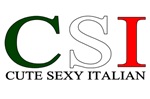 Shirts & Novelties
---
Partner Links Shops/Stores Italiansrus Gear
Proudly display the colors of Italy with these great products.

FORZIERI.com

The world largest online retailer for Premium Italian Fashions.
---
Travel